Resilience as the Hallmark of Syria: One-on-One with Peter Ford, the Former British Ambassador to Syria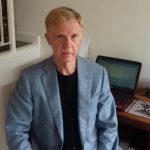 Peter Ford is a former British Ambassador to Syria, where he was posted in Damascus from 2003 to 2006, and is currently the London-based Co-Chairman of the British Syrian Society. He also previously served as Britain's Ambassador to Bahrain from 1999 to 2003. He was a senior official with UNRWA in Jordan from 2006 until 2015. From 1971 until 1999, Peter worked with the UK Foreign and Commonwealth Office serving in Beirut, Cairo, Singapore, Paris and Riyadh, as well as London. Peter is a frequent commentator on Syria in the international media and writes occasionally about the country in The Guardian, Middle East Eye and 21st Century Wire but more commonly appears on television and radio media networks such as BBC News, Sky News, ITV News, France 24, Russia Today, Press TV and NTV. He advises British Members of Parliament principally on Syria and co-founded the Global Network for Syria (GNS) along with Caroline Cox, also known as The Baroness Cox. Peter graduated from Oxford University and is fluent in Arabic. The Syrian Law Journal wished to interview Ambassador Peter Ford to discuss his views on Syria in light of the incoming Biden Administration's likely policies, the future of the Syrian conflict, international law, sanctions and British-Syrian relations.
It has been almost 10 years and the guns have not yet fallen silent in Syria. Foreign powers, specifically the United States and Turkey, continue to occupy vast swathes of territories and control resources in northern and eastern Syria. Moreover, the United States began implementing the Caesar Act in the midst of the COVID-19 pandemic and is threatening secondary sanctions against any person or entity anywhere in the world caught dealing with Syria. Do you anticipate more of the same policies under the incoming Biden Administration?
Sadly, I have to be honest and say I expect no improvement under Biden. His administration could even be worse than Trump's. Antony Blinken, Biden's new Secretary of State, said he regretted that Obama did not wade deeper into the Syrian quagmire than he already did, and he condemned Trump's worthy but feeble efforts to withdraw US troops from Syria. Fortunately, US options for doing more damage to Syria are limited now that government forces control most of the country. It would be surprising however if the new administration failed to come up in its first year with a 'new' policy for Syria. Nothing good is likely to result. Much will depend on what happens in Idlib.
You served as British Ambassador to Syria from 2003 to 2006 and therefore witnessed the shift from a planned economy towards a market system. Could you please share with us what you experienced in Syria during that time in terms of economic and legislative changes on the one hand and foreign policy challenges on the other? What correlations, if any, do you feel existed between the events of the 2000s and the onset of unrest in 2011?
There was a lot of optimism in that period about the modernisation and opening up of the economy. Positive steps were taken. Progress got hampered however by the impact of the situations in Iraq and then Lebanon. Policymakers never really got the chance to concentrate on the economy and make sure that the much needed reforms did not impact adversely on people with low incomes. All that, and the drought in the North East, helped create an economic and social situation which was ripe for exploitation by Syria's adversaries.
What was your impression of President Bashar Al-Assad when you resided in Damascus and has your position changed since then?
I see the President today exactly as I saw him then, except possibly stronger today having come through a traumatic period and survived despite the worst the West and regional adversaries could throw at him. Few leaders in the world have been subjected to such a long series of pressures over more than a decade and come through stronger. You have to remember that the troubles did not just start in 2011. The blowback into Syria from Iraq and the turbulence over Lebanon, combined with the onset of Western sanctions, meant that President Assad had already walked through fire by 2011. His calmness and resilience then and since never fail to amaze me.
Were you ever acquainted with the late Syrian Foreign Minister Walid Mouallem who recently passed away? He once famously declared that Syria would look eastwards following its alienation by Western powers. Will such a geopolitical outlook be the norm for Syria for the foreseeable future?
I knew Mr. Mouallem well and liked him a lot. I think he liked me even though I gave him a hard time sometimes in carrying out my instructions from London. Let's be honest – Syria's brief attempt to improve relations with the West were welcomed by the West for only a very short window of time. The failure to complete a new economic cooperation agreement with the EU for political reasons in 2006-7 set the pattern for the West to turn its back on Syria. Unless we see profound political changes in the West as a result of the coronavirus crisis, and it would be surprising if an earthquake of this magnitude, with the economic effects still to be felt, could take place without shaking the foundations of Western societies – unless we see a profound rejection of incumbents – then I fear the West will continue to drift towards confrontation with countries like Syria. Crumbling Western governments may even seek conflict as a diversion from popular anger.
You have recently become a board member and the Co-Chairman of the British Syrian Society, an organization that had much success in the 2000s in fostering strong relations between the United Kingdom and Syria and organizing high profile conferences and workshops to promote economic reform in Syria. What do you aim to achieve by joining the British Syrian Society? Can you foresee a resumption of diplomatic relations between the United Kingdom and Syria, potentially during Prime Minister Boris Johnson's tenure?
I joined the British Syrian Society at a moment when it is very difficult to obtain any kind of hearing in the British media or politics for the Syrian standpoint. It is almost impossible for the Society to carry out any activities. Any improvement in this situation is hard to foresee, certainly as long as Johnson remains Prime Minister.
The war in Syria and the foreign interventions that followed have no doubt tested the bandwidth of legality under international law. Did the Syrian conflict weaken the concept of international law or merely expose its deficiencies?
Both. International law has always been a delicate flower. Today, as a direct result of US contempt for international law where its own actions are concerned, that law has never been weaker and less possible to respect.
The international sanctions imposed against Syria by the United States and the European Union are hindering the supply of medical equipment and pharmaceutical products to the country even as it grapples with the COVID-19 pandemic. Although supplies of humanitarian goods are exempt from the sanctions, healthcare suppliers and financial institutions avoid dealing with Syria due to compliance risks and costs. The controversy has been continuously flagged over the course of the past decade. Is the alleviation of sanctions in order to facilitate access to supplies for the healthcare sector in Syria a lost cause?
Not a lost cause but not a realistic prospect any time soon. I had hopes that if the pandemic really hit Syria hard, even the cynical Western politicians would be forced by public opinion to ease sanctions. Fortunately, Syria, like most countries in the region, has been less vulnerable to the virus than many ignorant international 'health experts' predicted. This does mean however that pressure to ease sanctions has not increased.
You sound rather pessimistic about the outlook. Do you see reasons for hope?
I may be pessimistic with regard to unchanged attitudes in the West towards Syria, but more generally I am optimistic. The West has been conducting what is effectively a war on and off against Syria for over forty years and Syria has survived. That resilience I mentioned is the hallmark of the entire country. The strategic situation is more promising than threatening. Those controlling Idlib and the North East will be nervous. Syria's allies Russia and Iran are steadfast, and China, increasingly important on the world stage, is supportive. Even in the West, there are some possible unforeseeable consequences which will arise out of the unprecedented economic crisis now set to engulf it which could be favourable to Syria, with Western governments and indeed whole societies looking precarious. So no, I am not pessimistic on the whole about Syria's prospects.